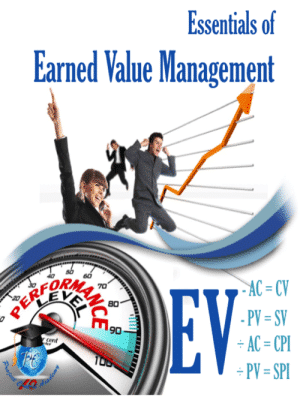 Essentials of Earned Value Management
Essentials of Earned Value Management
Improve your projects performance by unlocking the power of Earned Value Management.
The Essentials of Earned Value Management training program equips you with the knowledge and skills required to assess the status of your projects in terms of cost, schedule and scope. It helps you forecast your project's ultimate cost & schedule outcomes, and more objectively measure your project performance. Closely aligned with Earned Value Management industry practice standards, this course promotes a common language in communicating your project status and help you improve your projects' productivity and performance by uncovering performance issues at an early and correctible stage in your projects.
This comprehensive training in Earned Value Management is structured into 15 modules:
Module 1- Introduction to EVM
Module 2- Scope Definition
Module 3- Control Account Establishment
Module 4- Scheduling an Earned Value Project
Module 5- Cost Budgeting
Module 6- Establishing the Performance Measurement Baseline (PMB)
Module 7- EVM Data Collection
Module 8- Actual Costs
Module 9- Progress Measurement
Module 10- Performance Measurement
Module 11- Cost & Schedule Forecasting
Module 12- EVM Reporting
Module 13- Variance Analysis
Module 14- Baseline Revisions & Change Control
Module 15- Project Close-out
By the end of this training, you will gain a great deal of knowledge, boost your skills, and become proficient in Earned Value Management.
Why You Should Register for Essentials of Earned Value Management Online Training
Earned Value Management is the skill set that you need to attain in order to:
Get into project control/ cost control more easily because in this competitive environment, those who know Earned Value Management have higher chances of employment.
Advance to lead positions in project controls because Earned Value Management requires integration between cost and schedule that enables you to oversee the overall project performance and status.
Increase your ability to report, interpret, and communicate project's exact cost & schedule status.
Know whether your project is truly on budget and on schedule.
Hundreds of project control professionals, project managers, and engineering discipline leads have taken this training either online or in-house. We have received lots of great positive feedback. That is why we believe that if you want to have a successful career in project controls or project management, taking this training is a must.
Following is what you will receive upon registration for this training:
Access to 15 top quality and professionally developed training videos/modules, which will be released over a period of 6 weeks. Although the modules release on a weekly basis for the duration of 6 weeks, you will have full access to the training for one year from the time of your registration.
Handbook of the course material in pdf. This becomes very handy when you want to recall the topics covered and the tools and strategies provided.
Course exercises and case studies: these will help you comprehend the course content and enable you to experiment the real life projects.
Official Certificate of Completion and PDUs. You will receive an official certificate of completion upon successful completion of the training and claim 15 Professional Development Units (PDUs) earned toward maintaining your license(s) with professional associations. As a PMI Registered Educational Provider, our training programs are pre-approved by PMI and are eligible for PDU credit by PMI. Your certification will be your passport to Earned Value mastery.
Private, secure, and mobile friendly access to Learning Management System (LMS). You will get access to all the training materials on our secure and robust learning management system using your private username and password. You can access the course via computer, laptop, as well as mobile devices such as iPhone, iPad, Tablets, etc. This makes your learning more flexible & adaptable.
24/7 access for 12 full months to all the training material. You can study at your own pace, whatever time of night or day it happens to be or wherever in the world you might be. You only need an Internet connection via Google Chrome, Safari, or Internet Explorer 9 or newer.
You will also receive the following bonus:
12-month access

to "Ask Instructor Anything Forum" where the master instructor personally answers any question you might have related to your course.
Earned Value Professional (EVP) Certification Guide which will help you discover the path to becoming the next Certified Earned Value Management Professional.
Live Monthly Project Control Training Webinars For 1 Year. You will learn a new Project Controls related topic, strategy, tactic, or tool every month for 12 months and get the answer to your questions live.
30-day money back guarantee in case you are not satisfied with content or quality of the training.
Special Alumni Discounts. As our valuable client, you will receive exclusive discounts on future online training programs in our Learning Management System.