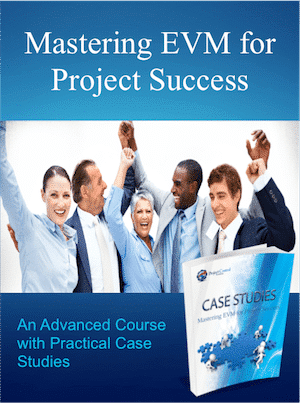 Mastering EVM for Project Success
Mastering EVM for Project Success
Are you ready to master your skills in Earned Value Management (EVM) and lead your projects to greater levels of success?
EVM Mastery training program provides you a working level understanding of Earned Value Management by walking you through a project case study step by step. You will experience implementing Earned Value Management on this sample project from conception to completion stages and learn the best practices and tips in every step of the process.
The EVM Mastery training course is an advanced course in Earned Value Management that focuses primarily on the "hands on application of EVM". This training course is intended for individuals who already have some knowledge or experience in EVM or have taken the "Essentials of Earned Value Management" course, offered by Project Control Academy.
This applied training in Earned Value Management is structured into 13 modules followed by 10 case studies:
Module 1- Mastering EVM Course Overview
Module 2- EVM in a Nutshell
Module 3- Defining the Project Scope
Module 4- Establishing Control Accounts
Module 5- Allocating the Budget & the Application of Management Reserve in EVM
Module 6- Scheduling an Earned Value Project
Module 7- Establishing the Performance Measurement Baseline (PMB)
Module 8- Measuring Progress
Module 9- Evaluating Project Status
Module 10- Forecasting the Final Cost and Schedule Results
Module 11- Controlling Changes and Maintaining the Baselines
Module 12- Analyzing EVM Data
Module 13- How to become the next certified EVP?
CASE STUDIES:
Case Study # 1: Prepare Work Breakdown Structure (WBS)
Case Study # 3: Budget Allocation
Case Study # 4: Schedule Development & Assessment
Case Study # 5: Establishing the Performance Measurement Baseline (PMB)
Case Study # 7: Project Status Evaluation
Case Study # 8: Evaluate Project Status & Performance
Case Study # 9: Change Control
Case Study # 10: EVM Data Analysis & Problem Identification
By the end of this training, you will build up extensive EVM capabilities that can be applied to your real life projects.
Why You Should Register for EVM Mastery Online Training
By mastering your skills in Earned Value Management you will be able to:
Know precisely whether or not your project is on the path to successful completion (on time and within budget)
Become distinguished for your ability to effectively plan, execute, control, and lead projects in the right direction.
Demonstrate to stakeholders whether or not they are getting value for money they are spending.
Build your reputation in your company due to your ability to report, interpret, and communicate project's true status.
Boost your company's overall competitiveness, Return on Investment (ROI), and chances of winning major projects.
Set yourself apart from the rest due to your knowledge and capabilities in identifying, controlling, and mitigating the project delays and cost overruns.
Advance your career to the next level of success…
This training has been delivered to hundreds of project control professionals and project managers prior to being rolled out online. We have received lots of great positive feedback. That is why we believe that if you want to have a successful career in project controls or project management, taking this training is a must.
"I had the opportunity to participate in the Mastering EVM for Project Success course at South Africa – Boot Camp – Nov/2015. No doubt, it was the best Project Control course that I've participated in my career. I've learned a lot and I believe it will be perfect for professional development. I would recommend this course to all Project Control team members."
Marco Neves, Lead Planner, USA
"Course content and quality was both very effective to providing knowledge about EVM and more importantly providing clarity and direction on situations and how to apply the methodology. Job well done. Material & content was very comprehensive. As a result of this training I will have more cooperation/ interaction with scheduling and document control teams, implement and use more EVM methodology for project analysis."
Roxana Taimuri, Cost Controller, Canada
"I found the training very valuable as we can implement this knowledge in all projects in order to increase the success rate of our projects. I am going to add a higher level of EVM to the projects and show the Project Manager it is really needed."
TJ Craddock, Commercial Coordinator, South Africa
Following is what you will receive upon registration for this training:
Access to 22 online training video modules that cover all the essentials and answer to case studies.
Handbook of the course material in pdf: This becomes very handy when you want to recall the topics covered and the tools and strategies provided.
Course case studies manual: these will help you comprehend the course content and enable you to experiment the real life projects.
24/7 access for 12 full months to all the training material.
12-month access to "Ask Instructor Anything Forum" where the master instructor personally answers any question you might have related to project controls.
Earned Value Professional (EVP) Certification Guide, which will help you discover the path to becoming the next Certified Earned Value Management Professional.
30-day money back guarantee in case you are not satisfied with content or quality of the training.
Upon completion of the training you will receive:
15 Official PDUs or PMI contact hours
Certificate of Completion from Project Control
"Highly effective. It is broad, in-depth, and very detailed. I will endeavor to become an EVP after this training."
Sandile Sibiya, , Quantity Surveyor, South Africa
"The content was well structured with valuable examples and case studies which helped understand the various sectors of EVM . I found the case studies to be most efficient. I would like to recommend the implementation of EVM on future projects as much as possible."
Melvin Govender , Quantity Surveyor, South Africa
"The course was very effective in demonstrating the importance of establishing a robust reporting system to analyze project status."
Paul Jordan, Senior Quantity Surveyor, Australia
"Well organized, excellent layout and content, and very relevant to applied project situations. I found all applied EVM case studies very valuable. As a result of this training, I will incorporate EVM practice in projects I am involved in."
Ryan Mudliar, Project Controls Manager, South Africa