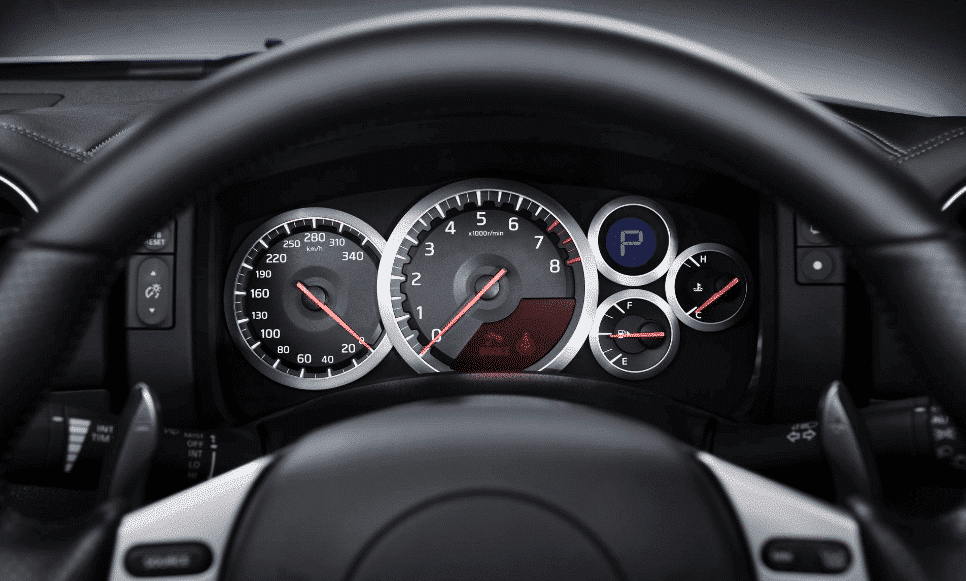 What is Project Controls?
To define the subject, Project Control, I would like to start by defining the two words "project" and "control" in isolation and then try to make sense of them combined.
Now, according to PMI's PMBOK Guide 5th Edition, "project" is defined as a temporary endeavor undertaken to create a unique product, service or result. Examples of projects are as follows:
Design, procurement and construction of an ultra-modern conference complex
Construction of a 580 mmscf capacity gas processing facility
Upgrade of an existing flour mill conveyor system
Development of a new product line to meet demand
Deployment of a new enterprise asset management (EAM) system
Design and implementation of a computerized maintenance management software (CMMS)
"Control", on the other hand, as looked up in Merriam Webster dictionary, means: "to direct the actions or function of (something): to cause (something) to act or function in a certain way". In this definition, "certain way" refers to the baseline plan developed by the project team. There must be a reference point (baseline) to monitor deviations during execution in order to apply control in maintaining project limitations and constraints (scope, cost, time, resources etc.).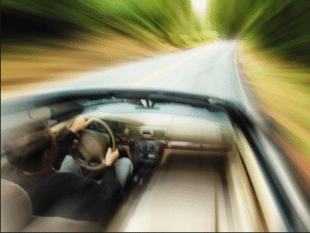 While driving on the road, a deviation from the drive lane will require control with the use of the steering; a deviation from a set speed limit e.g. 60 km/hr can be controlled by releasing or lowering the throttle foot pedal; a deviation from the minimum allowable fuel level will require a visit to the fuel station for top-up. Notice that all these deviations can only be noticed by having a regular tracking system in place and by monitoring the indicators on the dashboard. "Control" therefore, ensures that the car stays healthy before and in motion until it gets to its final destination.
Having examined their individual meanings, let's attempt to combine the meanings of the two words "project" and "control". Any temporary endeavor with unique requirements (project) will requires a timely corrective process in place to track, monitor and manage deviation of the project scope, schedule, and cost from the initial (baseline) plan toward achieving the set objectives.
The uncertainty associated with projects as mentioned above allows for deviation hence the need for control measures to be in place. "Project Control" therefore, is the process of regulating or taking corrective actions in a timely manner to maintain the performance objective of a project.
Note that, other than threats and negative risks, opportunities can also be exploited in favor of the project objectives. Without monitoring indications of threats, risks and/or opportunities there can be no control.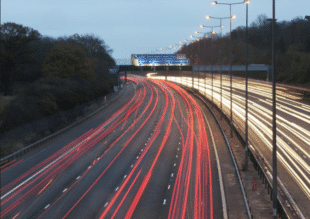 According to PMBOK GUIDE 5th Edition, "continuous monitoring provides the project team insight into the health of the project and identifies any areas requiring additional attention." Further description in PMBOK GUIDE is as follows: "The Monitoring and Controlling Process Group consists of those processes required to track, review, and orchestrate the progress and performance of the project; identify any areas in which changes to the plan are required; and initiate the corresponding changes. The key benefit of this Process Group is that project performance is measured and analyzed at regular intervals, appropriate events, or exception conditions to identify variances from the project management plan."
The success of project control is greatly influenced by the quality of planning effort put into estimating, budgeting and baselining of the project scope, cost and schedule. Risk analysis is also a vital aspect of this process which will enable the project team plan for contingencies and mitigation.
Project Control Processes
I included the illustrations below to help you appreciate the processes of project control and their interactions.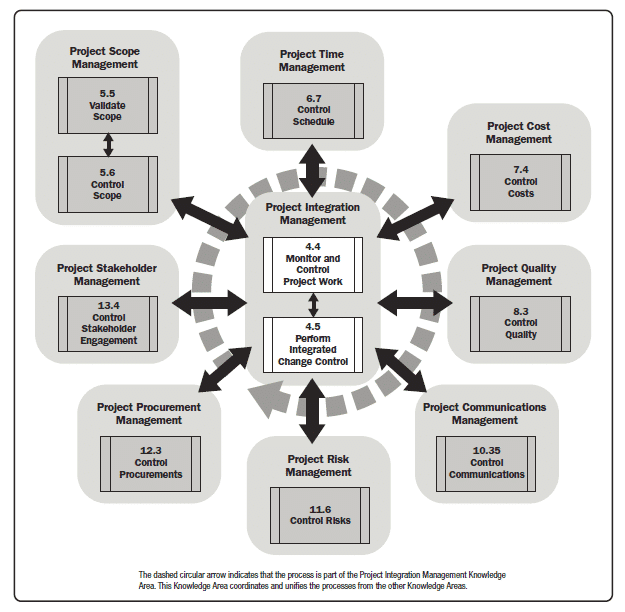 Reference: PMI PMBOK, 5th Edition Project Control Processes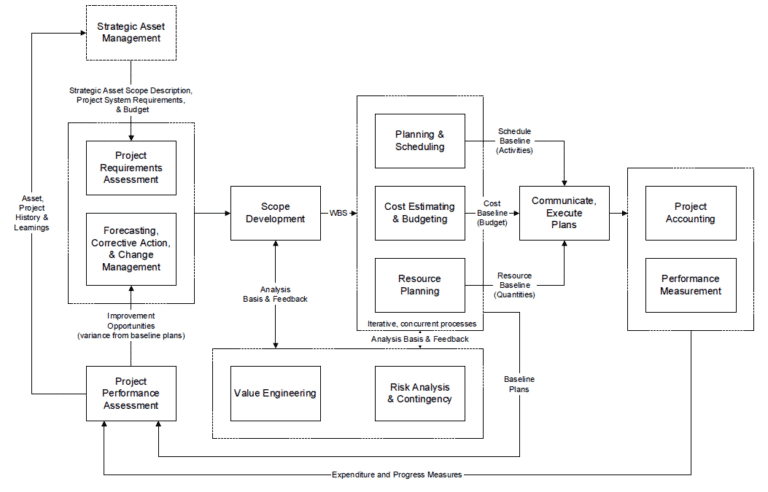 Reference: AACE's TCM Project Control Process
Most projects across industries are characterized by key metrics that are candidates for measuring and controlling deviation from projects baseline plans. These metrics are mainly Scope, Quality, Cost, Time, Risk, and Resource (people, materials and equipment). In different publications, they are referred to as project constraints, key performance indicators (KPI), triple constraints etc. There is always the need to evaluate the effect a change in one constraint has on others. For example, if the schedule for building an ultramodern conference complex shortens, the budget will have to increase to accommodate additional resources to complete the same amount of work within the new schedule. Such interaction between the project constraints (Scope, Quality, Cost, Time, Risk, and Resource) is the business of projection control in harmony with the project manager.
As in AACE's TCM Framework, project control process is built upon the PDCA control cycle, which is also known as Deming cycle. PDCA stands for plan, do, check, and assess, with the word check being generally synonymous with measure. The word assess is sometimes substituted with act as in to take corrective action.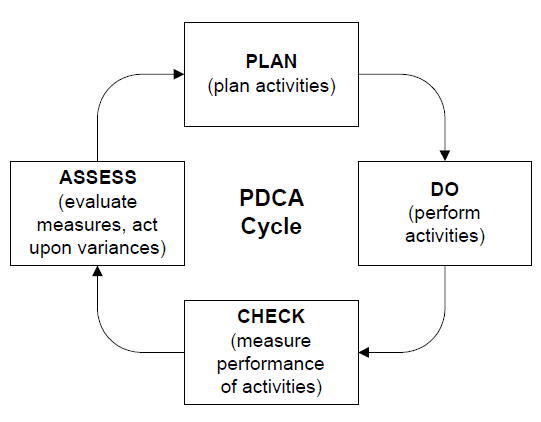 Plan Do Check & Assess Cycle (courtesy of AACE TCM Framework – 2006 Edition)
The subject or knowledge areas: Scope, Cost, Time (Schedule), Resource, Procurement, Risk are subsets of the project control sub-processes. Notice that these knowledge areas also correspond to the project constraints as mentioned earlier.
Using the PDCA as a framework to appreciate the project control process, the sub-process which corresponds to the Plan, Do, Act and Check Cycle are as follows:
Project Control Planning: Ideas on project requirements or corrective actions, on the various knowledge areas are converted into measurable plans.
Project Control Plan Implementation: project control plans on the various subject areas are communicated to and executed by the project team members.
Project Control Performance measurement: includes data gathering and measurement of the key performance indicators subject areas of the project activity progress and performance.
Project Control Performance Assessment: performance measurements are compared to the plan, and corrective, mitigating, or improvement actions are taken as may be determined
Some other key knowledge areas other than the ones mentioned above are Change Management.
How powerful is project control? You may want to provide an answer to this question to show that you understand the subject.
Note that the subject of project control cannot be covered in this single post as it is almost as large as its parent subject, project management, stripped of communication processes. That is to say that this post is meant to trigger a craving for the subject to bring clarity to current and intending practitioners to gain the right knowledge and skill for a more effective application. It is believed also that a better understanding of the subject of project control will increase better predictability and successful completion of projects and as a result, better productivity, better efficiency, better ROCE, better ROI, better GDP, a more competing currency and a better economy and nation.
What are your thoughts on the power of Project Controls? Please share your comments below and I will respond.
If you like this blog post, please hit the like button and share it with your circle of connections. Thank you.
References:
– AACE TCM Framework
– Skill and Knowledge of Cost Engineering
– PMI PMBOK 5th Edition
About the Author Simeon Ochiche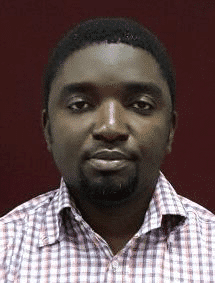 Simeon Ochiche MEM, PMP®, a Senior Project Management Practitioner with Projecontrol Consulting Limited, which provides innovative Project Control solutions for Construction Projects, Shutdown, Turnaround & Outages (STO) including project management and project control education.
Simeon is passionate about project control. He has over thirteen years combined experience in the Oil & Gas industry, with multinational companies, covering Major Capital Projects (MCP), Small Capital Projects (SCP), and Turnaround Maintenance among others. He has both client's and contractor's perspective having worked from both ends.
Simeon is a licensed Project Management Professional PMP®, recognized by the Project Management Institute PMI® (the world's leading project management membership body) and a member of Association of Cost Engineers (AACE). He is an engineer with background in Polymer Engineering and holds a Master of Engineering Management (MEM) degree from River State University of Science and Technology, Port Harcourt, Rivers State. He has published papers in reputed journals.
He can be reached at his LinkedIn profile or his website.